SCh StrandWiks Qenzo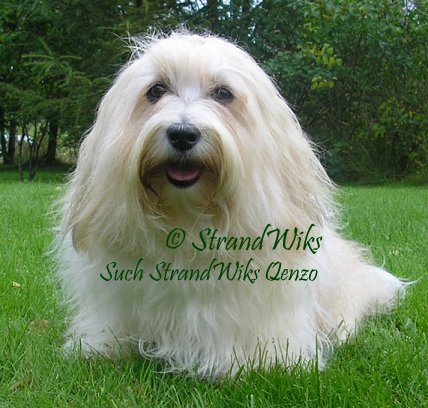 September 13, 2005

Sire: SCh Invibe's Whiskey Pete's In Nevada
Dam: StrandWiks Lilla My

Born: March 2001


Swedens 5'th most winning havanesemale 2004.


Qenzo is no longer available in breeding.

HEALTHCHECKS:

Eyes checked clear, no heritable cataract or PRA:
March 25, 2002
April 11, 2003
April 16, 2004
April 15, 2005
May 5, 2006
April 20, 2007
February 8, 2008


PL-Tested 0/0

Heart status checked clear 2007.
Heart checked clear 2008


Photo: Monica Embretsen, Tequilaville's

Qenzo finished his championship with:

CAC, CACIB, BOS & Champion July 18, 2004
Judge: Glenwyn Dymock, Australia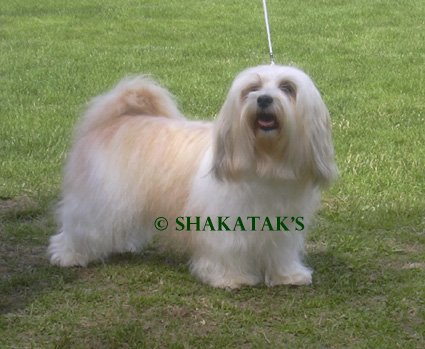 photo: Camilla Hedlund, Shakatak's


Spring 2008

7 years


****
Official shows:

Högbo Swedish Kennelclub September 5, 2004
BOB & CACIB
Judge: Marie Thorpe

Very worthy champion with all the breed features. Small, sturdy and lively.
Excellent head. In very good proportion. Good length of neck.
Excellent topline. Very good tuch-up. Very good tail and tailset.
Very good front and back....? Moving true to type.

SKK's International show, Västerås July 18, 2004 (10 males)
CAC, CACIB, BOS & Swedish champion today
Judge: Glenwyn Dymock

Dog of good proportions. Very good almond shaped eye. Dark pigment.
Good topline. Correct springy movement. Good undercoat.

Alfta SKK Nationella July 10, 2004 (6 males)
Best male-2
Judge: Kirsti Lummelampi

SKK National, Vänersborg June 12, 2004 (5 males)
CAC & BOS
Judge:Ove Germundson
Swedish Kennel Club show in Västerås April 24, 2004
Best male-3
Judge: Gerald Hickey
Masculine type. Good head and nek. Correct topline. Nice feet. This dog is well made.
Should put move in to his movement.


May 2003
Judge: Nils Molin
Best male-5

Swedish Kennel Club show International August 11, 2002
Judge: Sue Shrigley
Best male-2 & reserv CACIB
Pleasing head proportion. Good forequarter and angulation,
correct body body proportion. Strong hindquarters. Slight deviation in front when moving,
otherwise correct in moving.

Swedish Kennel Club show International June 16 2002
Judge: Bo Skalin, Sweden
CAC & BOB
(only 15 months old)
A very good head with beautiful eyes. Nice expression. Wellplaced ears.
Good length on the nose. Correct angulation. Well weared tail. Lovely movements. Very good coat quality.


INOFFICAL SHOWS:

Inofficial Drive-in-show October 2003
Judge: Jens Högsander
BIG-3
Masculine. Excellent type and size. Beautiful head and expression.
Excellent chest. Good topline. Enough angulated in front and back.
Moves well. Good coatquality. Shown well."

Inofficial Drive-in-show October 27, 2002
Judge: Jack Stockstill
BIG-4
"Very good type. Sound front and rear. In very good condition.
Good coat quality. Moves well. Shown well"